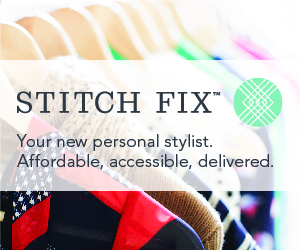 My fourth 
Stitch Fix
 box came a few weeks ago.  I never had a chance to post my review because this summer has been crazy busy, so here is my review now. I was really excited to get my box.  My birthday was this month, so I told Michelle, my stylist, to surprise me for my birthday. I also asked for the Kut from the Kloth Siena capris I had received in a previous fix in the coral color.
Stitch Fix
 is a fun personal stylist service that delivers designer type clothes straight to your door.  The great thing about this is that you can try on the clothes at your own home and see if they go with your wardrobe.  Plus it gives you a chance to try styles that you may have not tried otherwise.  You fill out a style profile on their website and you can also make a Pinterest board with your style.  They then send you clothes based on your style.  The more times you order, the more they can get to know you and your style.  You can schedule the boxes monthly or get them whenever you want.  Once you schedule a fix, you receive a box filled with 5 clothing and accessory items hand picked for you.  You pay a $20 styling fee for each box, which also includes delivery and shipping any returns back.  If you purchase anything the $20 styling fee is applied as a credit toward your purchase.  Also if you purchase the whole box you receive a 25% discount.
 I really like that Michelle reads my blog and that she looks at my Pinterest board.  She also seems to get my style and I like what she sends me.  I was so happy with all that she sent me.  Even though I decided not to keep it all, I contemplated keeping everything that was in the box.  I think Michelle did a great job.
Market & Spruce Bernadette Lace Overlay Raglan Top
The lace detailing of this shirt was really cute and the fabric was really soft and comfortable.  I feel that it didn't look right on me and also I really didn't like the way the back was cut.  The back was even lower than the neck hole at the front and it just wasn't comfortable to me.  I paired the shirt with the Kut from the Kloth capris I received.
VERDICT: Returned
KUT FROM THE KLOTH  

SIENA CAPRI PANT – $58.00
I love the black capris I received so much that I asked for another color.  The capris come in black, olive, and coral.  I usually am not a big fan of wearing color pants but my mom suggested that I get the capris in another color since I liked them so much.  Michelle said they did not have coral in stock and sent them in olive.
I was really against them at first but part of the reason was I had no idea what to wear with them.  I saw suggestions online to wear purple with olive pants and Stitch Fix suggested white.  You can see the capris with the shirt I received above and paired with a purple shirt.  I even added the black cardigan I received.  I love these capris so much, I decided to keep the olive color and add some different color pants to my wardrobe.  I would still love to try the coral color as well.
VERDICT: Kept
Le Lis Nassau Lace Detail Cardigan.
Look above and below to see pictures of the cardigan.  I love having cardigans so that I can continue to wear short sleeve blouses at work all year round.  The lace detail on this blouse was so pretty.  I don't know though there was just something about the cardigan that I didn't love.  Looking at the pictures of it paired with the dress I received, it did look pretty good with that.  Ultimately I decided since I wasn't in love with it, that I didn't need to keep it.  
Brixon Ivy James Laser Cut Dress
This dress was really pretty and I absolutely love the color of the dress.  I think that the color looked really great against my extremely pale skin.  However, I didn't really like the cut out detail at the bottom and didn't really like the way the dress looked on me.  My husband said he wasn't a fan of it either.  Looking at the pictures of the cardigan and the dress together, though, I kind of wished I kept the dress.  They looked great together and would have been cute to wear to a wedding.
Pixley Fiona Maxi Dress
I had this pinned to my Pinterest board for awhile and was really excited to see that Michelle had sent it for my birthday fix.  It is a really cute and comfortable maxi dress and I really love the little lace detail on the top.  I like that this dress can look formal or informal as well and I could even add a cardigan or jean jacket to it.  I really like this cardigan and can't wait to wear it!
VERDICT: Kept
In summary, even though I only kept 2 items, this 
Stitch Fix
 box was a success.  I love that Michelle really listened to what I wanted and looked at my Pinterest board.  Michelle did a great job with this fix and I will be requesting her to style my next fix as well.  For me it is not about keeping all of the items to have a good fix, but to have things that could all work for my style and finding a couple of pieces that I love.  I really like the fact that I have a stylist to pick out clothes for me.  I can't wait to see what Michelle picks for me next month!
If you want to try Stitch Fix, go here to sign up!
Disclaimer: This is not a sponsored post. I signed up for Stitch Fix and purchased the box myself. I'm sharing my opinions because I think they will help others. This post does contain referral links for new sign-ups that gives me a small credit towards to purchase of my next box.