Casseroles and pasta bakes are great.  They are a complete comfort food and they are usually easy to put together too.  I also think casseroles are great when you are having people over for dinner or when bringing a meal to someone's house.  I have brought meals to people that have just had babies, and have been hospitalized.  There is nothing better than a casserole or pasta bake when you can't cook or don't have time to cook.
A bunch of bloggers and I have come together to help Ashley at
Center Cut Cook
at a time when she could use someone to bring her and her family a casserole.  So we are bringing her some virtual casseroles and comfort food today.  I first heard Ashley's story about a year ago and it definitely touched me.  Ashley's husband, who is only in his early 30's, is battling Stage IV colon cancer.  The couple found out they were expecting their first child about a week after they learned of the cancer diagnosis.  I am sure that was a huge mix of emotions for them as they battled cancer and were so happy to be having a child.
Their baby Miles was born in August 2014.  He is about a month older than my son Ashton.  When Miles was 8 weeks old, he had a seizure.  They later learned that he had suffered a seizure due to the fact that he was in kidney failure.  He now needs both a liver and kidney transplant.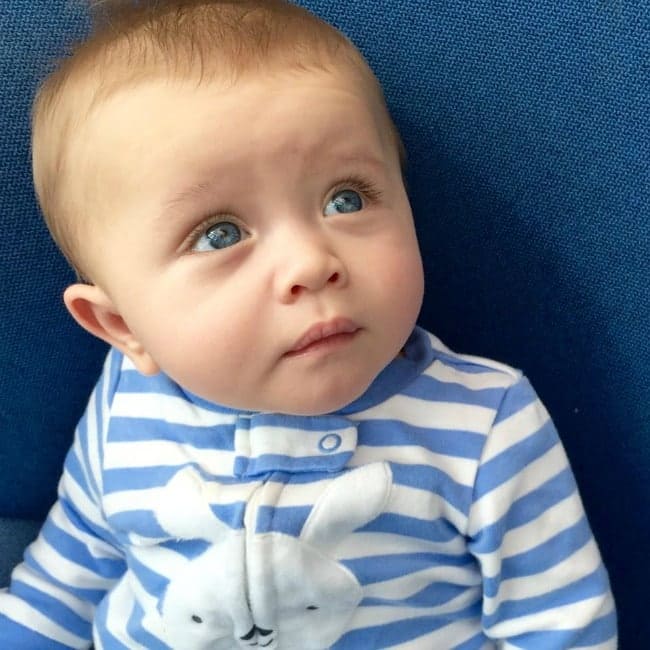 I can't even begin to imagine what Ashley and her family are going through.  When she posts on the
Team Ryan Facebook
page she always seems optimistic, strong, and seems to always have a smile on her face.  I'm sure it is very hard for her, but her outlook is amazing and I wish her family all the best.
We are trying to help raise some money for the family's medical expenses.  Look below for the page to donate.  Every little bit helps them tackle some of the huge medical expenses that they are accruing.  I wish I could share this gnocchi bake with them, it is so delicious, cheesy, and the ultimate comfort food.
This Chicken Bacon Ranch Gnocchi Bake would be great to bring over to a friend or family member's house.  This is the ultimate comfort food that is loaded with gnocchi, bacon, ranch dressing, and lots and lots of cheesy goodness.  If you don't know what gnocchi is, it is little potato dumplings that are similar to pasta.  This dish is almost like a gnocchi mac and cheese but with lots of bacon and ranch flavor as well.  My whole family loved this dish and I wish I could bake some for Ashley and her family. I hope you enjoy this delicious dish!
Chicken Bacon Ranch Gnocchi Bake
Ingredients
1 package (16 ounces) gnocchi
2 cups chicken, cooked and cubed
1/2 cup bacon, cooked and chopped
1/2 cup ranch dressing
1 1/2 cups milk (I used soy milk)
2 3/4 cup shredded cheddar cheese
1 teaspoon garlic powder
1 tablespoon fresh chives, chopped
Instructions
Preheat the oven to 400 degrees.
Meanwhile cook the gnocchi according to the package directions.
Heat up the ranch dressing, milk, and 2 cups shredded cheddar cheese in a saucepan over medium heat until the cheese melts and the mixture becomes creamy.
In a large bowl combine the cooked gnocchi, cheese sauce, chicken, bacon, garlic powder, and chives.  Then spoon the mixture into a greased 8x8 baking dish.
Top with the remaining cheddar cheese.
Bake for 20 minutes or until the cheese is melted.  Serve immediately.  Makes 6-8 servings.
http://whatscookinglove.com/2015/04/chicken-bacon-ranch-gnocchi-bake/