This is a Sponsored post written by me on behalf of Honeysuckle White® and Shady Brook Farms® for SocialSpark. All opinions are 100% mine.
During the summer we always love to grill and have a barbecue outside.  I love taking advantage of the nice weather and eating and making the food outside.  One of the things we frequently like to grill for dinner are burgers.  I do not eat red meat, so we always like to make turkey burgers.  When my husband and I met, he was sad that I didn't like burgers.  He convinced me to try turkey meat instead so that he could have a burger, and we have been making turkey burgers ever since.  We also use ground turkey meat in a lot of our dinners instead of using beef.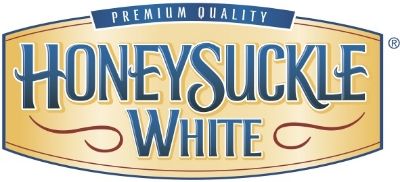 Our favorite brand of ground turkey and turkey products that we always use is Shady Brook Farms. I really like the quality of the meat.  My favorite things about cooking with turkey meat is that it is healthier than other meats.  Honeysuckle White and Shady Brook Farms turkey is a more healthier option than other proteins.  It offers more protein than beef, fewer calories than chicken, and less fat than pork.  Honeysuckle White and Shady Brook Farms not only make ground turkey, but also brats, tenderloins, and frozen turkey burgers. Turkey is a flavorful alternative to other proteins that is great for grilling. When cooking, make sure that the turkey reaches an internal temperature of 165 degrees Fahrenheit. I really like the taste of the turkey and love using it to make a delicious dinner on the grill.
The other night we decided to make turkey burgers and have a little barbecue outside since it was so nice out.  We  made these delicious Bacon Barbecue Cheddar Turkey Burgers.  They were seriously one of the best turkey burgers we ever made and I can't wait to make them again.  We made the turkey burgers using Shady Brook Farms ground turkey meat.  We then stuffed the burger with cheddar cheese.  On the top of the burger, we put tomato, bacon, french fried onions, and barbecue sauce.  This is a great burger for summer grilling and the turkey meat makes the burger so flavorful as does the other toppings.  We all devoured these delicious burgers and cannot wait to make them again!
Bacon Barbecue Cheddar Turkey Burgers
Ingredients
1 pound Shady Brook Farms or Honeysuckle White ground turkey
1/2 cup bread crumbs
1 teaspoon Worcestershire Sauce
1/2 teaspoon soy sauce
1 pinch parsley
1 eggs worth of egg whites
Block of cheddar cheese, cut up into one inch squares
Tomato, sliced
Bacon, about 5 pieces
French Fried Onions
Barbecue Sauce
Burger Rolls
Instructions
Mix together the bread crumbs, Worcestershire sauce, soy sauce, parsley, and egg whites with the ground turkey in a medium-sized bowl, using your hands. Form the burgers into 4 or 5 equal patties.
Form a flat patty in the palm of your hand. Place a one inch cheese square in the middle of the patty and then bring the meat over the sides and top of cheese making sure it is sealed in.
Grill the burgers for 10 minutes on each side or until done.
Place the burger on a bun and top with tomato. One top place a slice of bacon cut into half. Then add some french fried onions on top and top it all off with barbecue sauce. This makes about 4-5 burgers.
http://whatscookinglove.com/2014/07/bacon-barbecue-cheddar-turkey-burgers/
Make sure to check out Shady Brook Farms' and Honeysuckle White's new line of Turkey Burgers.  They are easy to prepare, are bursting with flavor, and can go from the freezer to the table in 20 minutes. There are six varieties to choose from, including Savory Seasoned, Ready to Season, Cheddar Jalapeño, and Swiss, Bacon & Onion. The new turkey burgers are gluten-free burger patties and are approved by the USDA as a good source of protein. In fact, they have more protein and fewer calories than beef, pork and chicken.  They also contain 58%-76% less fat than regular ground beef.
Also it's even easier to make turkey the centerpiece of your next barbecue with the Grilling With Friends Facebook app, which includes a menu builder tool, invite list manager and more. The app allows one to plan every detail of their next grill-out with tools like the menu builder that allows guests to sign-up to bring food, beverages or extras (like a playlist) from the hosts original list or add their own items.  Plus, enter the sweeps at the same time for a chance to win a new Weber® grill and $1,000.
For tips and recipes, visit Turkify.com