It's time for the Crazy Cooking Challenge. This month's challenge was Fried Chicken.  The recipe needs to be chicken and it needs to be fried in some way.  These chicken tenders were dipped in a tempura batter and then fried.  This recipe is from Plain Chicken.  She has so many great chicken and dinner recipes, make sure you go check out her blog.  
When I saw that the challenge was fried chicken, I was a little nervous because I usually make my fried chicken in the oven instead of actually frying it.  I love fried chicken, but I usually regret getting it because it is greasy.  When I found this recipe I knew that I had to try it.
This was really easy to make.  It was so easy to make the batter and then just stick it in the oil for about 5 minutes.  There was nothing hard about frying it.  The great thing about the tempura batter is that it is not as heavy. This was not greasy at all and it tasted excellent.  These chicken tenders were so good.  My husband even used the leftovers to make a salad the next day.  This batter is a great alternative to the traditional fried chicken and can be used to fry any other meat as well.  Enjoy!!
Other Crazy Cooking Challenge recipes:
Tempura Chicken Tenders
1 1/2 teaspoons baking soda
1-2 pounds chicken tenders
1.  Mix the flour, salt, and water together in a large bowl.  In a smaller bowl mix together the vinegar and baking soda.  Then pour the baking soda mixture into the flour mixture.
2.  Pour about 2 inches of oil in a skillet and heat the oil over medium high heat.  When you splash a drop of water in the oil and it sizzles, it is hot enough.
3.  Dip the tenders into the tempura batter and shake off the excess batter.  Fry the tenders in small batches for about 5 minutes for each batch or until the chicken is fully cooked.  Remove the tenders from the oil and drain on paper towels before serving.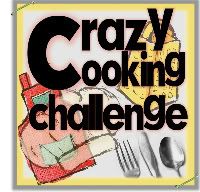 Please go HERE if you are interested in joining the Crazy Cooking Challenge
FRIED CHICKEN – Linky Party Code (July 7, 2012, 9am PST) BLOGGER & SELF-HOSTED WORDPRESS BLOGS FREE WORDPRESS
Powered by Linky Tools
Click here to enter your link and view this Linky Tools list…