For this month the Crazy Cooking Challenge theme was Blueberry Muffin.  I had a lot of trouble with this because my husband does not like blueberries.  I am not the biggest fan of plain blueberries but I really like blueberry muffins and blueberry pancakes.  I did not want to make a whole batch of blueberry muffins to end up eating them all myself.  I know I could give a lot of them away, but honestly I would probably eat more than my fair share. 
I wondered whether there was a recipe for a microwave blueberry muffin, just like the microwave mug cakes I see on Pinterest all the time.  I found this recipe at the blog
Chocolate-Covered Katie
. Katie's blog is so great, it has a ton of desserts, but ones that are healthy or in single servings.  Her blog is a must see!!  The recipe was for a single serving blueberry muffin made in the oven, but it also said it could be made in the microwave. 
When I went to the store I bought a lot of blueberries thinking that maybe my 9 month old son would like them.  My son loves to eat and up to this point the only food he didn't like was apricot.  Well, he doesn't like blueberries either.  He ate the first one but had the most disgusted look on his face.  After that every time we tried to give him a blueberry, he would immediately spit it out.  I have tried a few times since and even mixed it with other food, but to no avail.  So I guess I am still the only person that likes blueberries in my house.  
I made the microwave version of the recipe first.  It tasted really good and was really easy to do. I put a muffin liner in a mug and microwaved the muffin in that. Unfortunately, the microwave version does not photograph as well.    
I think that I liked the oven version better, the first picture and the one below are the oven version.  It seemed softer and was more moist.  The microwave version is perfect for a quick snack or dessert.  This muffin is a great single serving dessert that is really easy to make.  I like that it you can make one serving and not be tempted by having other blueberry muffins around.  This is a really quick snack or dessert that is good and that is also healthy.  
Other Crazy Cooking Challenge recipes:
Single Serving Blueberry Muffin
3 tablespoons flour
1/4 teaspoon baking powder
1/16 teaspoon salt
1 tablespoon plus 1 teaspoon sugar
1/2 tablespoon blueberries
1/2 teaspoon vanilla
1 tablespoon vegetable oil
1 tablespoon plus 1 teaspoon soy milk
1.  Preheat the oven to 350 degrees.  Put one muffin liner into a muffin pan.  
2.  Mix the dry ingredients together, then add the wet ingredients and combine all. Pour the batter into the muffin liner.  Bake for 17-20 minutes or until golden brown.
3.  To make in the microwave, pour the batter into a greased mug or a mug with a muffin liner and microwave for 90 seconds.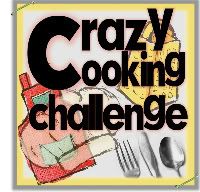 BLUEBERRY MUFFIN – Linky Party Code (April 7, 2012, 9am PST) BLOGGER & SELF-HOSTED WORDPRESS BLOGS FREE WORDPRESS
Powered by Linky Tools
Click here to enter your link and view this Linky Tools list…