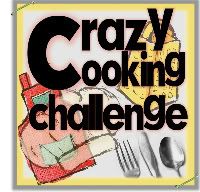 This month's Crazy Cooking Challenge is Chicken Noodle Soup.  The rules are that it must be soup and must have chicken and noodles in the ingredients.  I had so much fun participating in last month's crazy cooking challenge, with the theme of fudge, that I decided to participate again. 
I have never made chicken noodle soup before.  I think it is because my grandma makes the best chicken noodle soup and I felt that nothing could compare to hers.  I also thought that it was really hard.  I started out looking for a recipe and decided I wanted to try a different type of chicken noodle soup.  I found a recipe for creamy chicken noodle soup that was cream based.  I pinned it and then when I came back to it later I thought it was harder than I wanted  and decided to look for something a little easier.  As a result check out the multiple different kinds of creamy chicken noodle soup on my Pinterest. 
Finally I found a recipe for Creamy Chicken Noodle Soup on Sweet Peas and Bumblebees.  This blog is great and has a lot of great ideas.  The soup looked so good and it turned out great.
I made some minor alterations to the soup.  I added potatoes instead of onions and celery.  I also added poultry seasoning instead of a bay leaf. I also added whole wheat noodles to make the soup healthier. The soup gets the cream part from cream of chicken noodle soup, instead of actual cream.  It made so much that we were able to freeze some and have some for leftovers.  It also was very filling.   It was great when I got sick and was very comforting.  My husband also thought the soup was very good.
Enjoy this great soup and make sure to visit Sweet Peas and Bumblebees and the other participating blogs!
Creamy Chicken Noodle Soup
(Recipe adapted from Sweet Peas and Bumblebees)
2 cups boneless chicken breast, boiled and cubed
6 cups water
6 chicken bouillon cubes
1/4 teaspoon poultry seasoning
1/4 teaspoon black pepper
1 package of extra wide whole wheat noodles, cooked (similar to egg noodles or can substitute egg noodles)
2 cups chopped carrot
1 can (14.5 oz) diced potatoes
2 cans cream of chicken soup with herbs (can use the fat free version to make it even healthier)
1.  In a large pot add the water, chicken bouillon cubes, poultry seasoning, black pepper, carrots, and diced potatoes.  Bring to a boil.  Turn to low and simmer until the carrots are tender.
2.  Add the cream of chicken soup and stir until blended.  Add the chicken and noodles.  Bring to a boil and serve. 
CHICKEN NOODLE SOUP Linky Party Code (January 7, 2012, 9am PST) BLOGGER & SELF-HOSTED WORDPRESS BLOGS FREE WORDPRESS
Powered by Linky Tools
Click here to enter your link and view this Linky Tools list…