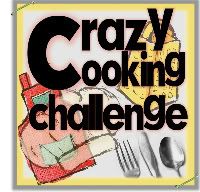 This month I decided to join the Crazy Cooking Challenge.  This challenge highlights other blogs and encourages bloggers to make things they have not tried before.  I have never made fudge before and since I love chocolate and peanut butter I thought this would be a great fudge to try.  This recipe was actually really easy and it didn't take much effort except for some constant stirring. This fudge is also a great idea for Christmas presents for teachers, co-workers, and anyone else.  For my fudge recipe I am highlighting a recipe I found on Pennies on a Platter.  Make sure you stop by that blog and visit some of the other participating blogs. 
Have you ever made a mistake while cooking that ended up not turning out to bad?  I do it a lot and sometimes I find really great recipes that way.  While making this fudge I made a mistake that ended up tasting really good.
While stirring the mixture in the saucepan, I got out the vanilla to add because it needs to be quickly added when the saucepan is removed from heat.  I asked my husband to help me add the vanilla because I was stirring.  When he added it, I asked, "Why is it red?"  Turns out I accidentally pulled out strawberry extract and not vanilla and my husband did not look before he added.  This added a hint of strawberry
 flavor to the chocolate peanut butter fudge, which actually tasted pretty good.
Chocolate Peanut Butter Fudge
(Recipe adapted from Pennies on a Platter). 
1 cup peanut butter chips
1 cup milk chocolate chips
2 1/4 cups granulated sugar
1 (7 ounce) jar of marshmallow cream
3/4 cup evaporated milk
1/4 cup butter
1 teaspoon vanilla extract (or can use strawberry extract instead)
1.  Line an 8 x 8 pan with foil.
2.  In two separate medium-sized heat safe bowls, place the peanut butter chips in one bowl and the chocolate chips in the other bowl.
3.  In a heavy 3-quart saucepan, combine the sugar, marshmallow cream, evaporated milk, and butter.  Cook over medium heat, stirring constantly, until the mixture boils.  Boil and stir for 5 minutes.  Remove from heat and quickly stir in the vanilla (or strawberry extract).
4.  Working quickly, stir one-half of the mixture into the peanut butter chips and the other half into the chocolate chips. Stir the peanut butter mixture until fully melted and quickly pour into the 8 x 8 pan.
5.  Stir the chocolate chip mixture until fully melted and carefully spread over the peanut butter mixture.
6.  Let sit at room temperature until completely cool.  To cut flip the fudge over and unpeel the foil.
FUDGE Recipes Linky Party Code (for December 7, 2011, 9am PST) BLOGGER & SELF-HOSTED WORDPRESS BLOGS FREE WORDPRESS
Powered by Linky Tools
Click here to enter your link and view this Linky Tools list…